By Lambert Strether of Corrente.
I got a late start. More soon! –lambert
"But what is government itself, but the greatest of all reflections on human nature?" –James Madison, Federalist 51
"They had one weapon left and both knew it: treachery." –Frank Herbert, Dune
Here is a second counter for the New Hampshire Primary, which is obviously just around the corner:
Alert reader dk (not to be confused with DK) is in the process of developing the following interactive chart.
We have a new national poll from Morning Consult (with a big fat sample size), as of 2/7/2020, 12:00 PM EST. This is the three-day average (otherwise Biden's drop would be more dramatic):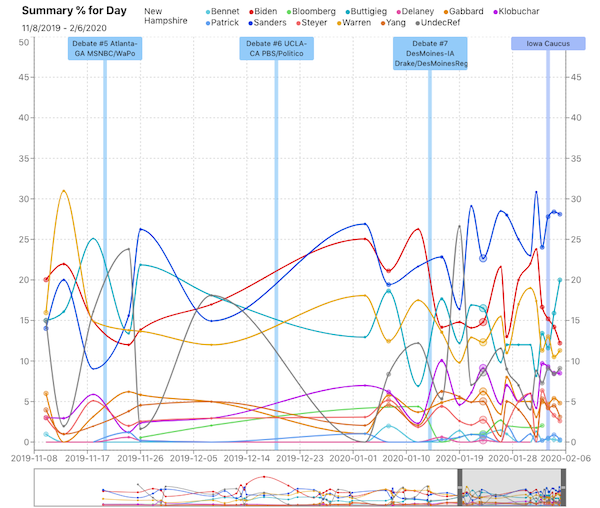 The numbers: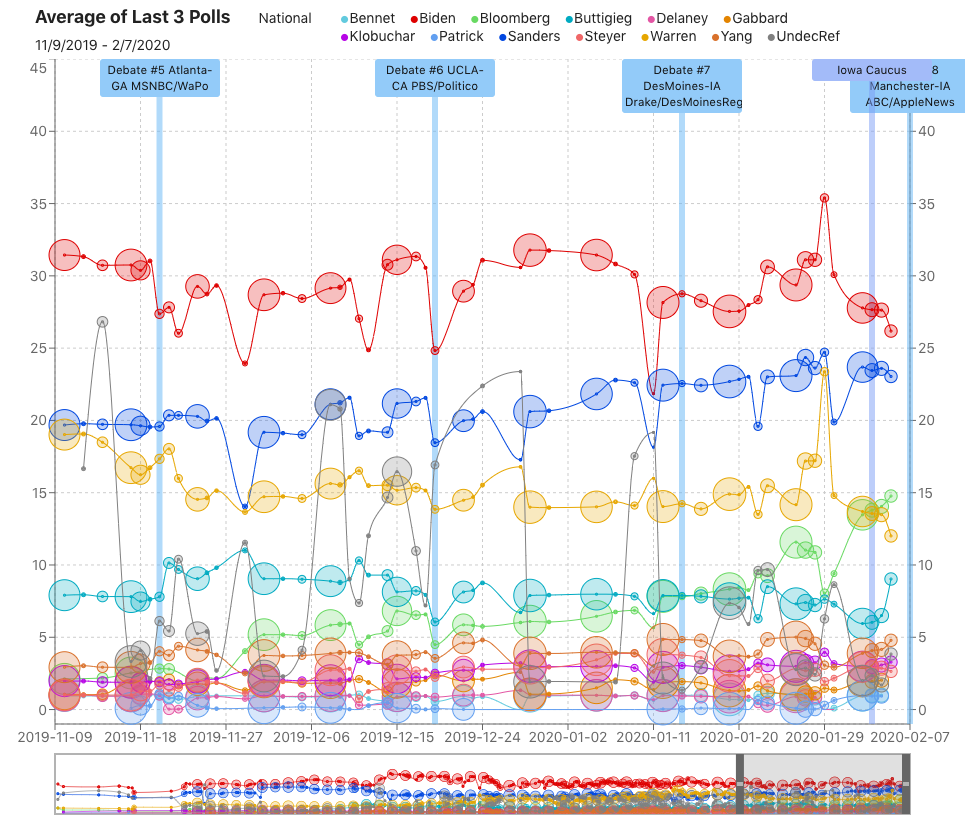 Sanders and Biden tied, though in Iowa, Biden proved to be a paper tiger, so who knows. And look at Bloomberg's money is buying him!
NH (daily):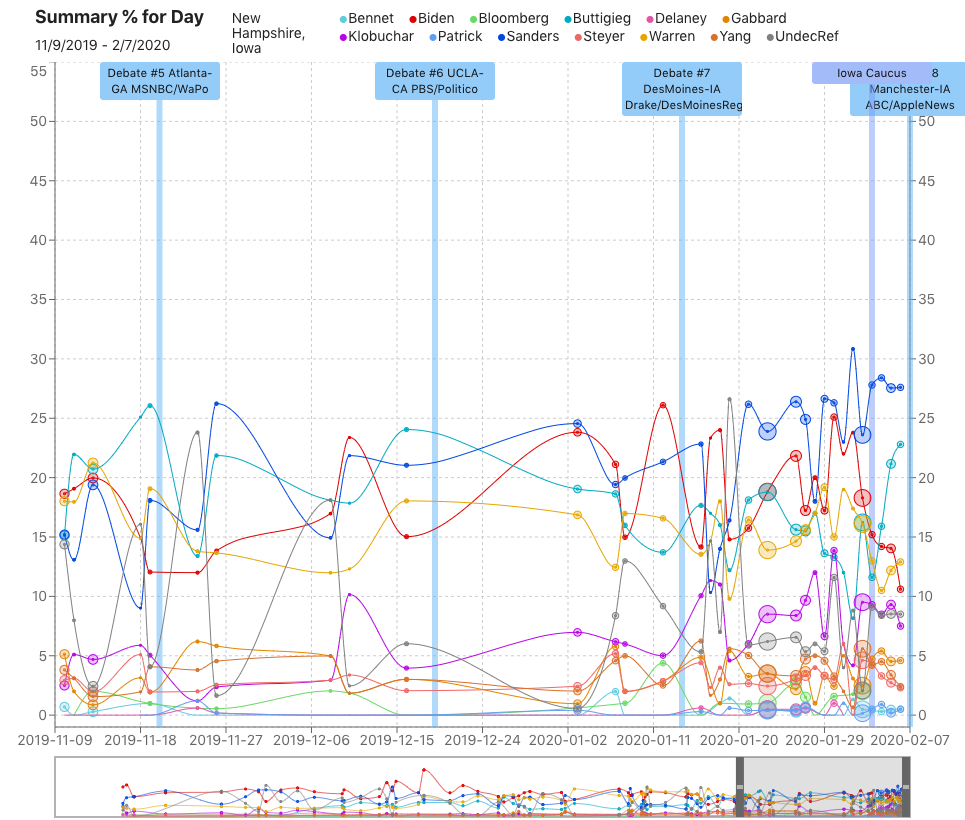 NH numbers: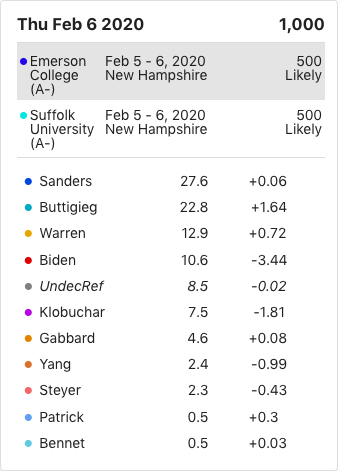 Buttigieg claiming Biden and Warren votes? But note the small sample sizes!
CAVEAT I think we have to track the polls because so much of the horse-race coverage is generated by them; and at least with these charts we're insulating ourselves against getting excited about any one poll. That said, we should remember that the polling in 2016, as it turned out, was more about narrative than about sampling, and that this year is, if anything, even more so. In fact, one is entitled to ask, with the latest I boomlet (bubble? (bezzle?)) which came first: The narrative, or the poll? One hears of push polling, to be sure, but not of collective push polling by herding pollsters. We should also worry about state polls with very small sample sizes and big gaps in coverage. And that's before we get to the issues with cellphones (as well as whether voters in very small, very early states game their answers). So we are indeed following a horse-race, but the horses don't stay in their lanes, some of the horses are not in it to win but to interfere with the others, the track is very muddy, and the mud has splattered our binoculars, such that it's very hard to see what's going on from the stands. Also, the track owners are crooked and the stewards are on the take. Everything's fine.
* * *
Biden (D)(1): "His campaign on the line, Joe Biden goes missing in New Hampshire" [WaPo]. "[O]n Thursday, just five days before the crucial primary here, the candidate was nowhere to be found. Biden spent Thursday gathered with his top advisers at his home in Wilmington, Del., seeking a reset and perhaps a last-ditch effort to save his candidacy, beginning with a debate Friday night. He held no public events. Following dismal results in the Iowa caucuses that have rattled many in his orbit, his campaign is now simultaneously trying to lower expectations here — with some suggesting they would consider a finish as low as third place a victory — while also bracing for a second straight difficult Election Day. In one troublesome sign for the financially strapped campaign, it canceled nearly $150,000 in television ads in South Carolina, which votes Feb. 29, and moved the spending to Nevada, whose Feb. 22 contest follows New Hampshire's. The move seemed to acknowledge that Biden's campaign cannot sustain a continued run of bad news." • The debate should be interesting…
Biden (D)(2): "How Biden Blew It" [Edward-Isaac Dovere, The Atlantic]. "It's now an open question whether Biden will have the cash to pay for his charter plane to fly him around the 14 Super Tuesday states that vote on March 3. After a disastrous summer of fundraising, plans from the team in Iowa and other states would linger with national headquarters for weeks, then come back without approval for the spending being requested. Other candidates were quickly hiring staff—particularly Buttigieg, who in June had all of four staffers in the state but went into the caucuses with 170—while Biden's team was under an almost complete hiring freeze. The campaign yanked its TV ads, leaving Biden dark for weeks and exponentially outspent in online advertising by Warren and Buttigieg, who soon had the rising poll numbers to show for it. At one point, aides realized, Biden was on track to spend less on TV in Iowa in this race than in his 2008 run, when he finished as an asterisk, with 1 percent of the vote. Biden aides who were being honest with themselves knew for months that they were in trouble. Some didn't want to believe it; some couldn't. Others felt like they'd gotten into a taxi with a driver who was swerving all over the road, and they were just holding on and hoping they made it to the end." • A Potemkin campaign.
Bloomberg (D)(1): "Mike Bloomberg: Fixing Inequality Is My Priority" [Michael Bloomberg, New York Times]. "Every Democrat running for president agrees that income inequality is one of the great problems of our time. And we all agree that the wealthy should pay more in taxes. But only one of us has actually raised taxes on the wealthy by persuading a Republican legislature to vote for them: Me…. Some of them prefer to shake their fists and point fingers, particularly when it comes to taxing the wealthy. I agree with the goal of making the system fairer and more progressive, including by increasing taxes on wealthy people like me. But I have a different approach, informed by my experience in both government and business… Unlike President Trump, I didn't inherit my wealth, and I genuinely support causes I am passionate about: gun safety, climate change, women's rights, universal health care, education and yes, electing Democrats — including those in 2018 who helped create a majority in the House of Representatives, which laid the groundwork for holding this president accountable." • Clearly, only the good billionaires can solve the country's problems, now that they're finally paying attention!
Bloomberg (D)(2): "Bloomberg Plagiarized Parts Of At Least Eight Of His Plans" [Bloomberg]. "The Intercept found that exact passages from at least eight Bloomberg plans or accompanying fact sheets were direct copies of material from media outlets including CNN, Time, and CBS, a research center at the John Jay College of Criminal Justice, the American Medical Association, Everytown for Gun Safety, Building America's Future Educational Fund, and other organizations."
Sanders
https://www.politico.com/news/2020/02/06/sanders-iowa-screwed-up-caucus-results-111838
Warren (D)(1): "Women of color bolt Warren's Nevada campaign in frustration" [Politico]. "A half-dozen women of color have departed Elizabeth Warren's Nevada campaign in the run-up to the state's caucuses with complaints of a toxic work environment in which minorities felt tokenized and senior leadership was at loggerheads. The six staffers have left the roughly 70-person Nevada team since November, during a critical stretch of the race. Three of them said they felt marginalized by the campaign, a situation they said didn't change or worsened after they took their concerns to their superiors or to human resources staff….. The women said the issues within the campaign hurt the larger effort to marshal votes, particularly in the state's large Latino communities. Spanish-language literature didn't arrive until late in the fall despite repeated requests from many staffers. There were too few Spanish-speaking organizers, the former staffers said, despite asking the campaign to hire more. They felt it was a constant battle to set up events in Spanish."
* * *
Impeachment
"The Prosecution Of President Donald Trump" [The New Yorker]. Deep from the heart of Sorkin territory, and worth a read for that reason. The Lawfare post mortem I linked to this morning is far more intellectually honest, which is pretty shocking, because when they say "lawfare," they mean it.
Realignment and Legitimacy
But they're credentialed professionalns!

I remain convinced that one of the main reasons conspiracy theories are so popular is that even average people, who resent those in power, have a hard time believing the people in power are as stupid and frivolous as they actually are. https://t.co/O7QAbGZCWs

— Jeff Spross (@jeffspross) February 6, 2020

"Democrats Embrace the Grift" [The New Republic]. "The press accounts of the App That Failed during the Iowa caucuses this week were probably most Americans' introduction to Acronym, the Democratic nonprofit responsible for developing the app, but journalists have had a chance to scrutinize the organization for almost three years. Acronym launched in 2017, to overwhelmingly credulous coverage. Axios wrote that it creates "breakthrough digital [campaigns]' online and on mobile to reach progressive voters during crucial campaigns.' That was the general tenor of most stories written about Acronym, basically, up through Monday night. Reading those stories now brought me to a depressing realization: The people who said they were going to beat Donald Trump in 2020 by emulating his supposedly highly sophisticated digital targeting operation have instead emulated Trump by turning their campaigns into . And, because this is the Democrats we are talking about, they did so by burning enormous sums of money that could have done untold good, politically and strategically, had they been used for just about anything else." • The Democrat Party is a lot easier to understand if you simply remove the assumption of good faith.

"Moneyball politics: Florida" [Princeton Election Consortium (UserFriendly)]. "This year is a little different because the stakes are higher: Redistricting happens in 2021, which sets the maps for the next ten years. Therefore whoever controls state legislatures is unusually important. Up to 1/3 of the seats in a chamber are under the control of whoever holds the redistricting pen. This means that the difference between single-party control and divided government can reverberate for a decade…. Florida's congressional district lines are drawn by the legislature and Governor, and legislative lines by the legislature alone. The Florida House, Senate, and Governor are Republican. Control of either chamber of the Florida General Assembly is a valuable prize. The Florida House of Representatives has 73 Republicans and 47 Democrats. Between the two, the state House of Representatives is more winnable: to change partisan control, 14 out of 120 seats would have to go from Republican to Democratic control. The resulting divided government would bring bipartisan rule to the Sunshine State…. Normally I'd say that 14 seats is a lot to shift. But there's a new population of potential voters, thanks to ex-felon reenfranchisement."

"The Pennsylvania Valley That Became A Bellwether For Trump" [The American Conservative]. "It's tempting to think that Pennsylvania's political map is settled in this presidential election year. And it's true that the state's northeastern and southwestern coal regions, once Democratic, are set to reward Donald Trump again. Philadelphia's 'collar' counties, meantime, will continue their Republican purge. But the outcome of this battle of the voting margins—working class versus suburbanite—still remains unpredictable. The Lehigh Valley, the most populous region between Philadelphia and Pittsburgh, will prove the bellwether in this fight. Its cities and towns have already had an understated yet immeasurable impact on America's economy and history. Come November, its voters could determine Trump's fate in Pennsylvania—and his reelection."
Stats Watch
Employment Situation: "Hiring surges in January as Americans flood into job market" [Associated Press]. "Hiring jumped last month as U.S. employers added a robust 225,000 jobs, bolstering an economy that faces threats from China's viral outbreak, an ongoing trade war and struggles at Boeing. The Labor Department also said Friday that a half-million people streamed into the job market in January, though not all of them found jobs. That influx meant that more people were counted as unemployed, and it boosted the jobless rate to 3.6% from a half-century low of 3.5% in December. The government's monthly jobs report signaled that businesses remain confident enough to keep hiring, with the pace of job growth accelerating from a year ago. Solid consumer spending is offsetting drags from the trade war and declining business investment."
The Bezzle: "Uber's new roadmap to profitability draws Wall Street praise" [Reuters]. "Uber shares, which were down almost 50% percent at the end of last year from its public launch, jumped 7% in trade before the bell as investors were also smitten by the company's aggressive plan to cut costs." • Lol.
The Bezzle: "Airbnb bans under-25s from booking 'party houses' after violence" [City A.M.] "Airbnb has launched a crackdown on young people booking entire properties in a bid to prevent house parties from descending into violence. The new rules have been rolled out in Canada as part of a trial programme, though the company did not say whether it will be extended to other countries. Under the new measures, Canadians will still be able to book single rooms. However, under-25s will only be able to book whole properties in their area if they have positive reviews on the website. The restrictions will not prevent young people from booking homes further afield." • Totally not game-able!
The Bezzle: "Why Have So Many Breast Pump Startups Flamed Out?" [Marker]. "'The folks who are the gatekeepers of funds are men, and they, for the most part, don't tend to see issues that affect women and women's bodies as being important,' MIT's D'Ignazio says. The most recent data reveals that startups founded by all-women teams raised only 2.8% of all venture capital last year; when women co-founded with men, that number increased to a still-meager 11.5%. Part of the problem is the makeup of the people doing the investing: Women represent less than 10% of venture capital fund employees. 'With issues related especially to women's bodies, [there's] a mismatch with the investment ecosystem and the problem you're trying to solve,' D'Ignazio says. The founders of Moxxly, another breast pump startup, echo running into similar problems. 'We were a female-founded team fighting for capital for a product only women use.' says co-founder Cara Delzer, who spoke to me in April."
Tech: "Apple's Independent Repair Program Is Invasive to Shops and Their Customers, Contract Shows" [Vice]. "Last August, in what was widely hailed a victory for the right-to-repair movement, Apple announced it would begin selling parts, tools, and diagnostic services to independent repair shops in addition to its "authorized" repair partners. Apple's so-called Independent Repair Provider (IRP) program had its limitations, but was still seen as a step forward for a company that's fought independent repair for years. Recently, Motherboard obtained a copy of the contract businesses are required to sign before being admitted to Apple's IRP Program. The contract, which has not previously been made public, sheds new light on a program Apple initially touted as increasing access to repair but has been remarkably silent on ever since. It contains terms that lawyers and repair advocates described as "onerous" and "crazy"; terms that could give Apple significant control over businesses that choose to participate. Concerningly, the contract is also invasive from a consumer privacy standpoint. In order to join the program, the contract states independent repair shops must agree to unannounced audits and inspections by Apple." •
Tech: "Twitter tops expectations with first $1 bln quarterly revenue, but outlook lags" [Reuters]. "Twitter Inc hit $1 billion in quarterly revenue for the first time, topping expectations and also beating user growth estimates in a rebound from previous troubles with ad platform bugs and unusually low seasonal demand. But the company also posted fourth-quarter net income lower than expectations."
Honey for the Bears: "French industrial output plunges in December as strikes weigh" [Reuters]. "French industrial production fell much more sharply than expected in December as factories contended with nationwide transport strikes and a broader European slowdown, official data showed on Friday. The INSEE stats agency said industrial output plunged 2.8% in December from November when production was flat, marking the biggest drop in nearly two years…. Economists have blamed the slowdown in large part for a surprise decrease in overall economic growth in the fourth quarter when it fell 0.1% from the previous three months."
* * *
Today's Fear & Greed Index: 59 Greed (previous close: 63 Greed) [CNN]. One week ago: 44 (Fear). (0 is Extreme Fear; 100 is Extreme Greed). Last updated Feb 7 at 12:18pm.
The Biosphere
"Lights out? Fireflies face extinction threats of habitat loss, light pollution, pesticides" [Tufts Now]. "Habitat loss, pesticide use and, surprisingly, artificial light are the three most serious threats endangering fireflies across the globe, raising the spectre of extinction for certain species and related impacts on biodiversity and ecotourism…. Artificial light at night has grown exponentially during the last century. "In addition to disrupting natural biorhythms – including our own – light pollution really messes up firefly mating rituals," explained Avalon Owens, Ph.D. candidate in biology at Tufts and a co-author on the study. Many fireflies rely on bioluminescence to find and attract their mates, and previous work has shown that too much artificial light can interfere with these courtship exchanges. Switching to energy efficient, overly bright LEDs is not helping. "Brighter isn't necessarily better," says Owens."
"A nearly 50% decline in bumblebee habitat in North America is tied to climate change, scientists say" [CarbonBrief]. "A new study warns that bumblebee populations in North America and Europe "have plummeted as a result of extreme temperatures", the Washington Post reports. It continues: "The number of areas populated by bumblebees has fallen 46% in North America and 17% in Europe, and the new research found that regions with sharp bee declines also experienced strong variations in climate – and especially higher temperatures and worse heatwaves." The researchers examined 66 bumblebee species using data collected over a 115-year period (1900-2015), notes the Independent. Bumblebee populations have been hardest hit in warming southern regions, such as Spain and Mexico, where some species already live near the edge of their temperature range, reports InsideClimate News. The findings suggest that the likelihood of a bumblebee population surviving in any given place has declined by 30% in the course of a single human generation, says the Press Association."
"Australia celebrates as heavy rains dampen huge bushfires" [Reuters]. "Much of Australia's wildfire-ravaged east coast was drenched on Friday by the biggest rainfall in almost 20 years, dousing some of the most dangerous blazes and providing welcome relief to farmers battling an extended drought…. By afternoon, there were 40 active fires in NSW, less than half the number of blazes at the peak of the crisis, with all burning at the lowest level danger warning of "advice" only. Neighboring Victoria state had 21 active fires, also at the lowest level."
"A conundrum: Who owns Louisiana land after it washes away?" [Times-Picayune]. "The problem is a result of the state's rapidly changing landscape. About 80 percent of Louisiana's coast is privately owned. But, under an old law, as coastal erosion and sea level rise turn the land into open water the area becomes property of the state, including the mineral rights underneath. Private landowners have become more adamant about restricting access to water on their property in order to assert their claim to the minerals underneath it. But boaters often have difficulty figuring out where private property ends and public waterways begin."
News of the Wired
"Are Insects Capable of Moral Behavior?" [JSTOR Daily]. "[One] take on the value of insect life presented by Louis Figuier, a French writer who interpreted science for a popular audience. His 1868 book The Insect World fascinated and repulsed readers with descriptions of astonishing insect behavior. He ascribed conscious choice, industriousness, and sociality to the bugs. In some cases, he did this by anthropomorphizing them—describing a flea laying eggs as a 'foreseeing mother,' for example. But often, the value he found was totally independent of human ethics, lying simply in their status as living creatures that play a part in the web of natural life. For example, he praised the 'marvelous…industry, patience, and dexterity' and 'biological intelligence' of parasitic fleas, ticks, and lice." • I suppose fireflies and bumblees might ask whether humans are capable of moral behavior… .
"The Joy of Collecting Stamps From Countries That Don't Really Exist" [Atlas Obscura]. "Laura Steward, curator of public art at the University of Chicago, who organized an exhibition of stamps from micronations and other dubiously defined places, believes that these tiny squares are more than a toss-off: They're art, proof of imagination, and rather sophisticated bids for public recognition. "A postage stamp is a small but mighty symbolic emissary from one particular nation to the rest of the world,' Steward writes in text accompanying the exhibit. 'A functioning postal service, made visible in stamps, is an unmistakable expression of national legitimacy…. As a result, the postage stamp is an excellent vehicle for spurious, tenuous, or completely fictitious states to declare their existence.'" • Odd to fit privatizing the post office into a legitimacy frame…
* * *
Readers, feel free to contact me at lambert [UNDERSCORE] strether [DOT] corrente [AT] yahoo [DOT] com, with (a) links, and even better (b) sources I should curate regularly, (c) how to send me a check if you are allergic to PayPal, and (d) to find out how to send me images of plants. Vegetables are fine! Fungi and coral are deemed to be honorary plants! If you want your handle to appear as a credit, please place it at the start of your mail in parentheses: (thus). Otherwise, I will anonymize by using your initials. See the previous Water Cooler (with plant) here. Today's plant (Clive):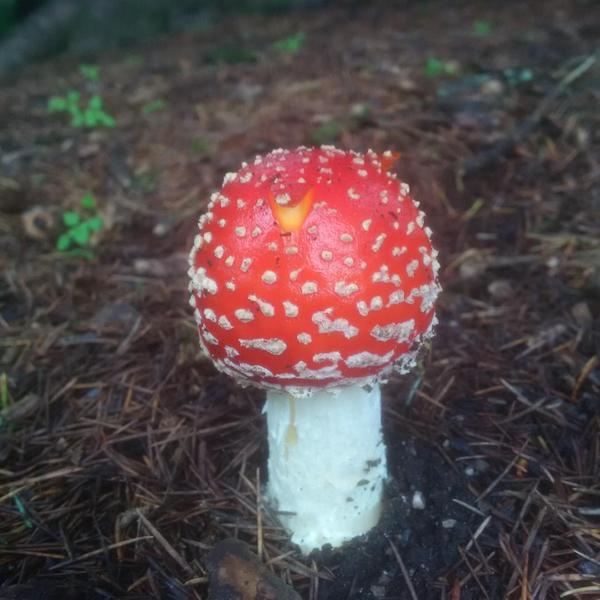 Clive comments: "Amanita muscaria, commonly known as the fly agaric — a just-emerged fruiting body." Considering whether to say this is suitable for tonight's debate, but on the other hand: Don't try this at home!
* * *Readers: Water Cooler is a standalone entity not covered by the annual NC fundraiser. So if you see a link you especially like, or an item you wouldn't see anywhere else, please do not hesitate to express your appreciation in tangible form. Remember, a tip jar is for tipping! Regular positive feedback both makes me feel good and lets me know I'm on the right track with coverage. When I get no donations for five or ten days I get worried. More tangibly, a constant trickle of donations helps me with expenses, and I factor in that trickle when setting fundraising goals:
Here is the screen that will appear, which I have helpfully annotated.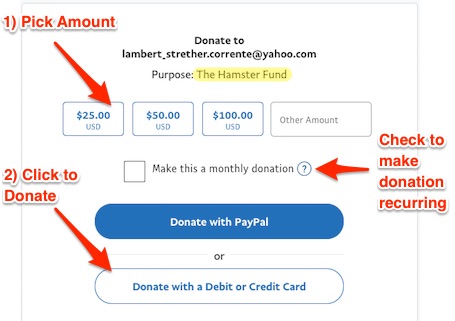 If you hate PayPal, you can email me at lambert [UNDERSCORE] strether [DOT] corrente [AT] yahoo [DOT] com, and I will give you directions on how to send a check. Thank you!

Original Source